Introduction
Watch Dogs 2 is an open world action-adventure game set within a re-imagined version of San Francisco, and it's going to launch on Windows, Xbox One and PlayStation 4 on November 15, 2016. Developed by Ubisoft Montreal and published by Ubisoft, Watch Dogs 2 is a direct sequel to the 2014 title.
Apparently Ubisoft wanted to make this game as good as possible, and it is known that the developer actually performed research by taking regular trips to California and consulting with actual hackers to make sure the scripts and game mechanics were authentic.
Plot
Players will control Marcus Holloway from a third-person perspective, as he works to take down an advanced surveillance program with his hacking group, DedSec.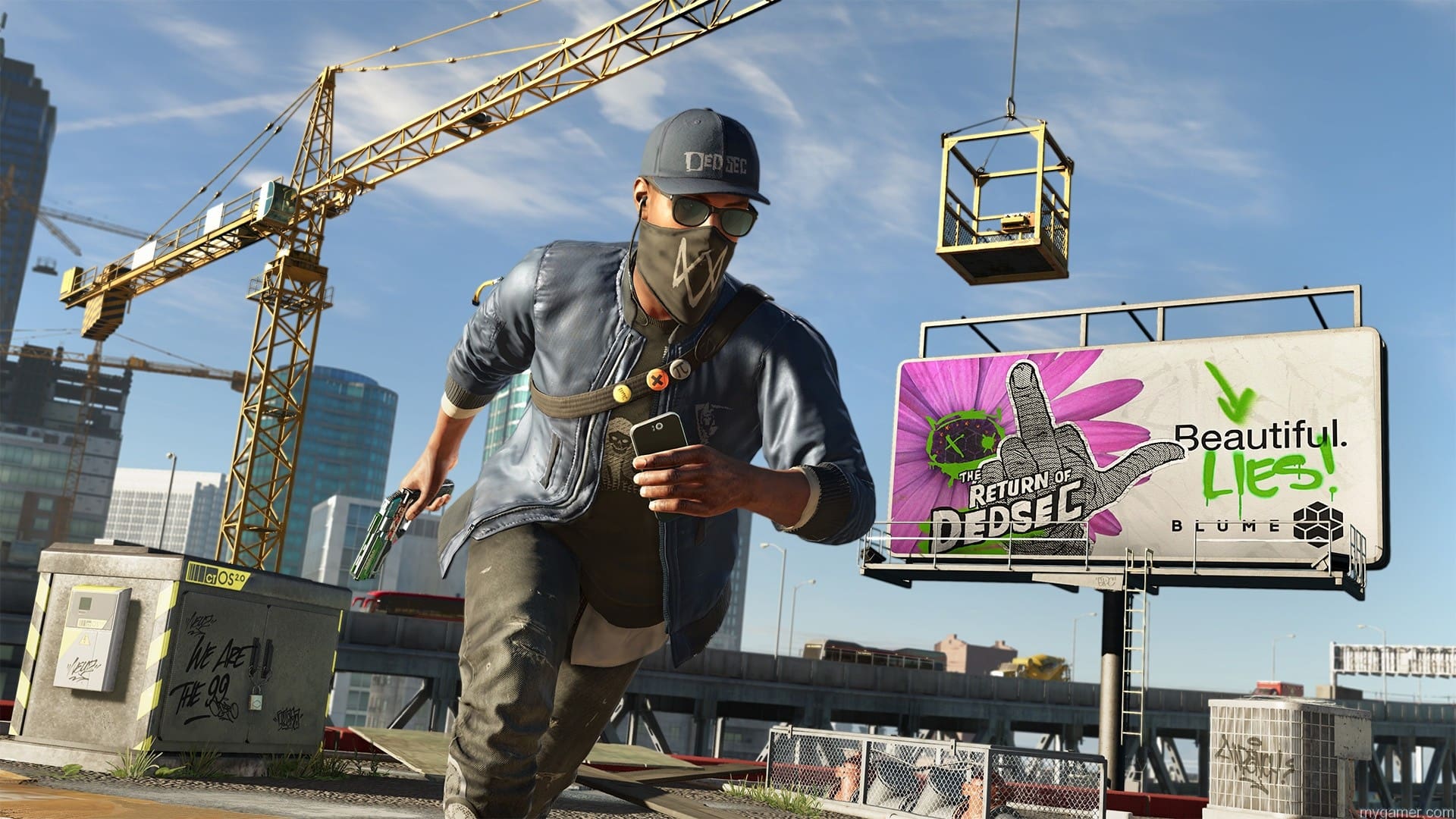 San Francisco is the next city to install the ctOS surveillance system after Chicago, and this programs literally monitors everything. It is connected to every device and every person in the San Francisco, but of course something goes wrong and Marcus Holloway gets framed for a crime.
If the system is wrongly accusing Marcus of a crime, then imagine how many other citizens in San Francisco are getting charged with crimes they did not commit.
So together with DedSec, Marcus is on a mission to take down the surveillance system and its creator, Blume.
Gameplay
Watch Dogs 2 is an open world action-adventure game played from a third-person perspective. You will get to explore an entire open world set in a fictional San Francisco, and we know that the playable area is twice as large as the one featured in the original Watch Dogs game.
There are six areas in the city, each having their own aesthetics and characteristics: Oakland, Marin, Civic, downtown, Coast and Silicon Valley.
During your time playing Watch Dogs 2 you will be able to travel on foot or by driving. The game features cars, trucks, boats, motorbikes and quad bikes, so it won't be hard to get around.
In fact, the driving mechanic was completely overhauled to be more accessible, and players will be able to shoot while driving if it ever becomes necessary. It isn't clear how much shooting-while-driving action there will be in this game, but some might find driving unnecessary. The reason for this is because Marcus is very athletic and his acrobatic skills give him the ability to parkour around San Francisco.
The missions can be taken with a stealthy approach, but the aggressive approach is typically more fun. Take down enemies with a 3D-printed gun, your thunderball melee weapon (billiard ball attached to bungee cord), or even explosives like mines. If you decide to go for the stealth approach you can still have fun by using a taser to temporarily evade and paralyze enemies.
The upgrade system is back, with three categories for you to choose from: Aggressor, Stealth, and Trickster. With this new and improved upgrade system you will be able to choose upgrades according to your preferred method of completing missions.
Hacking in Watch Dogs 2 is very exciting as well, since Marcus has the ability to hack into a wide-range of devices connected to the ctOS system with his smartphone you will be able to do cool things like disrupt traffic, hack into monitoring cameras and even take full control of someone else's car.
Marcus also has more equipment than Aiden (protagonist from the original Watch Dogs), so hacking and scouting is more dynamic in this game. Marcus can use a remote-controlled car or quadcopter for hacking and scouting enemies.
There will be over 700 pieces of clothing available in the stores, so Marcus can also be customized to fit your style. Each area of the city will have different styles of clothing available.
Operations, which are basically side-missions in the game, will help Marcus increase his followers count, helping him and his team achieve their main mission.
Multiplayer in Watch Dogs 2
The multiplayer game modes include a seamless cooperative multiplayer, as well as the competitive Online Invasions and Bounty Hunter.
Online Invasions is a one-versus-one game mode from the original title. It involves a player joining another player's single-player game session and installing a virus on his or her DedSec system. The hacked player has to kill the invading player to win the game, and he must try to escape to prevent you from killing him.
Watch an in-depth overview of Watch Dogs 2 open world gameplay.
Bounty Hunter is a new game mode that's initiated when an online player causes too much havoc in the city. When this happens, both the police and 1-3 other online players will join in the game to claim the bounty and kill the hunted. The hunted have two options, fight or flight. When the hunted kill their hunters they get rewarded well, but this might just increase their chances of dying in the game.
Another interesting thing about the Bounty Hunter game mode is that players can opt in with their in-game smartphone to become a part of the hunted, all it requires is for players to place a bounty on themselves.
The seamless coop mode in Watch Dogs 2 is new to the series and it basically gives players a chance to meet and explore the world with other players. This means you can complete missions together and help each other gain followers.
100% of Watch Dogs 2 can be played offline.
Conclusion
Watch Dogs 2 is everything fans of the original game want to see in a sequel. It looks like Ubisoft did a good job with this game by bringing in appropriate features, such as Bounty Hunter and the seamless cooperative game mode. The open world is twice as large as the original Watch Dogs, and there's a good amount of vehicles to choose from. The hacking is more realistic, plus there are more devices you can use. Over 700 articles of clothing means you can dress your character up quite literally how you would want him to look.
Watch Dogs 2 is scheduled for a November 15th, 2016 release date for Windows PC, PlayStation 4 and Xbox One. Check out the official cinematic reveal trailer from E3 2016 below!

Ghostanoid is an Arkanoid/Breakout clone with a ghost busting twist. Instead of clearing the screen of every brick, the goal is to hit each ghost enough times to make them disappear. Buff and debuffs are almost constantly thrown at the player and [...]

With a "the robots have taken over" Terminator-ish plot, Synthetik: Ultimate is the latest twin-stick roguelite to hit consoles and PC. Although it has a few elements to slightly separate itself from the other titles in this crowded genre it ultimately [...]

Tanuki Justice has run-and-gun Contra style gameplay with charming 8-bit visuals. It also has that old school challenge that demands practice in order to complete each stage. Although difficult, it is still beatable with some persistence. The [...]