Full Review
AquaPazza is a dream matchup that puts the characters from developer AquaPlus' previous titles, including Tears to Tiara, ToHeart and Utawarerumono, in a no-holds-barred fighting game. With a cast of 13 playable characters and 13 partners to choose from, and an additional hidden character, AquaPazza uses flashy combos, partner attacks, and deadly chains to keep competitive. Moreover, the Japanese voice track will be left completely intact. AquaPazza will be available for the PlayStation 3 at the special price of $29.99.
For the first time in North America, AquaPazza will be available in English, with the localization and publishing done by ATLUS. The North American version of the game will feature all the content through the current Japanese arcade spec of AquaPazza (ver. 2.01), which includes several new characters and improvements for tournament-grade action.
AquaPazza features include:
Eclectic cast of characters: The combatants in AquaPazza are a diverse bunch – from the studious bookworm Manaka who — no kidding — attacks with a bookshelf to the lance-wielding, shield-carrying Sasara.
Partner system: Players select from one of the thirteen partners to accompany them. Partners assist players as one of three classes with one of four different actions. Players get rewarded for aggressive play styles and the partners add an additional skill element to help break defensive play.
Tournament-level competition: Developed by Examu and Aquaplus, AquaPazza has a strong backbone of fighting game mechanics with twitch response times and super attacks.
Variety of gameplay modes: Each character has a storyline of their own, which unlocks the "another story" mode and an alternate ending. There's also a time-attack mode, training mode, and a gallery mode.
Online play: Take to the internet to challenge players in ranked, unranked, and friends-only matches.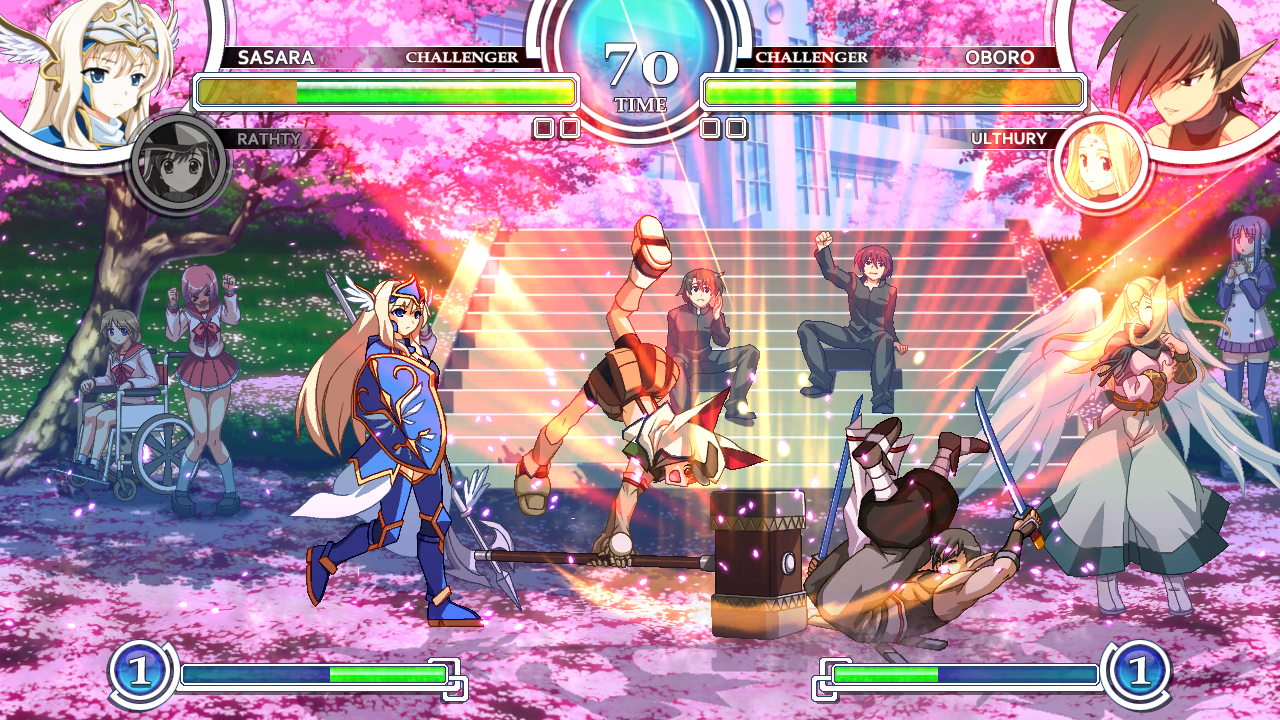 Available exclusively on the PlayStation 3, AquaPazza will be available beginning this holiday season. More information will be available on the game's official website: http://www.atlus.com/aquapazza. AquaPazza will sell for $29.99 in stores and as a digital download, and is not yet rated by the ESRB.
Originally released to arcades in the early 90s, Avenging Spirit is now available on home consoles thanks to the efforts of Ratalaika Games and Jaleco. A side-scrolling run-and-gun with a twist, this is an interesting action game with nice quality of life [...]
Released in early 2021 on the Nintendo Switch eShop, SNK VS Capcom: The Match of the Millennium was released as a standalone downloadable game for $7.99. Shortly after this standalone release, SNK re-released this fighting game within the Neogeo Pocket [...]
This week, Gillman and I play some Mortal Kombat 11 because he bought the super mega ultra version on sale for like 20 bucks or something. So we talk about the MK series, how I am impressed by the detailed story, and the MK movie that was on HBO earlier [...]