VIZ Media is set to deliver a brand new manga action inspired by Capcom's Monster Hunter.
MONSTER HUNTER: FLASH HUNTER is a manga (graphic novel) series written by Keiichi Hikami, with artwork by Shin Yamamoto, and is set to launch in print on April 12th. The fantasy action series is rated 'T' for Teens and will carry a print MSRP of $10.99 U.S. / $12.99 CAN. MONSTER HUNTER: FLASH HUNTER will also launch digitally on April 12th via VIZManga.com and the VIZ Manga App, as well as from the Nook, Kobo, Kindle, iBooks, comiXology, Google Play, and BOOK WALKER Global stores. Subsequent volumes of the 10-volume series will be published in English on a bi-monthly basis.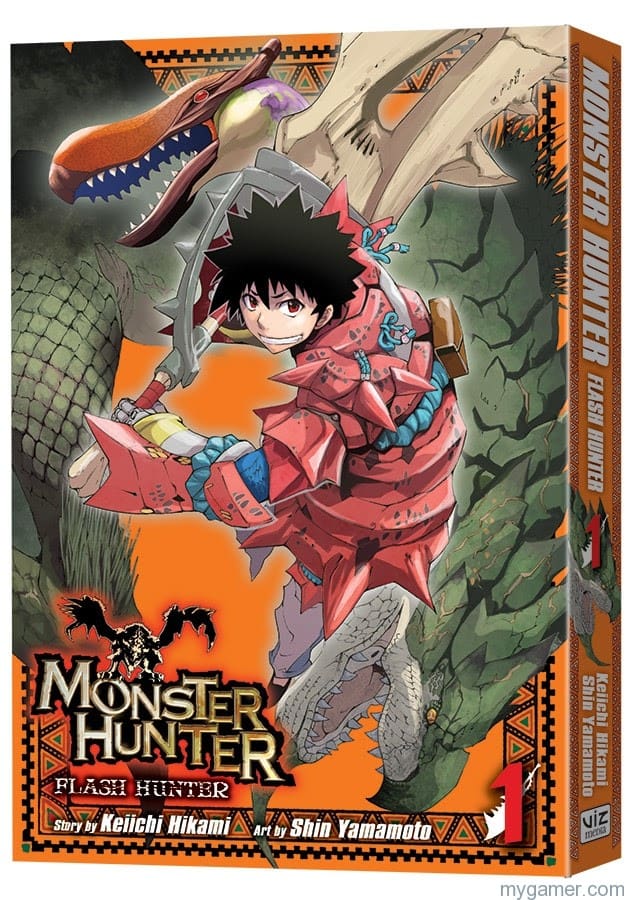 It is an age when monsters rule the world, soaring through the sky, treading the earth and filling the seas. Humanity survives on the fringes, relying on a special kind of hero to defend the people from danger – the Monster Hunters!
In the opening volume of the series, hunting giant man-eating beasts is no job for the weak-hearted, but along with courage, it takes skill and experience to be a good Hunter. It also takes good teamwork. Raiga and his comrades are experts now, but when they started down the path of the Monster Hunter, they lacked these qualities. When they head off to confront the dragon-like Queropeco, they quickly learn that this flaw could cost them dearly…
"MONSTER HUNTER: FLASH HUNTER is based on Capcom's bestselling game property that has sold more than 33 million units across four game titles, " says Michael Montesa, Editor. "Fans of the video game will not want to miss this action-driven new fantasy series that offers a whole new way to enjoy the popular storyline and characters."

Get a jump start on the holiday buying season with some deals found on Xbox Live. Starting today, Xbox Live Gold members can take advantage of great deals on Xbox digital games. Xbox Live Gold members not only enjoy an exclusive 4-day head start on Black [...]

Rampage, a classic Midway arcade game, will be seeing a big screen conversion in 2018. This movie adaptation seems to be heavily based around George, the gorilla with a cameo by Lizzy at the end.

No Brakes Games, alongside award-winning publisher Curve Digital, announced that Human: Fall Flat, a game about Bob and his wild dreams, is bound for the Nintendo Switch eShop on December 7th, 2017. Bob is a regular human with no superpowers, but given [...]