Big Ant Studios has revealed Masquerade: The Baubles of Doom, an original, third-person action video game with an emphasis on swift-paced brawling, platforming and puzzles. Players can combo together fast-flowing attacks, counters, dodges, hammer throws, takedowns and superpowers against huge, varied groups of enemy forces. The journey also includes treacherous terrain to traverse and environmental challenges that test players' logic and reflexes.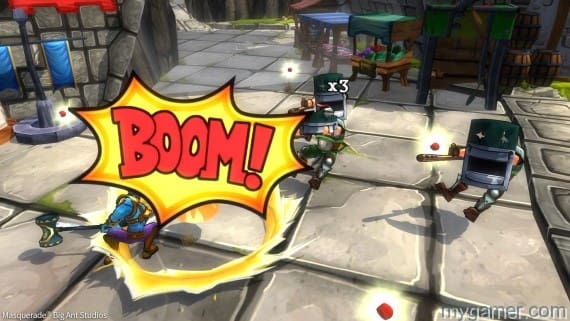 "Masquerade is a call back to those classic 3D action games that were all about larger-than-life characters and personalities," said Mark Bracken, Executive Vice President of Big Ant Studios. "We wanted to deliver a game with both heavy hits and lighthearted adventure, something that's simultaneously fun to play and fun to experience."

Masquerade: The Baubles of Doom features a bright art style, colorfully ridiculous characters and beautifully animated cutscenes that give it its comic fantasy tone and humor. The game stars a hammer-wielding, quip-slinging jester named Jaxx, whose quest to stop the evil Clown Army from claiming an artifact of supreme power will take him across the Realm to save it.
Masquerade: The Baubles of Doom is expected to launch on April 20 as a digital release on PS4 and PS3, XBOX One and Xbox 360 and Windows PC via Steam

Get a jump start on the holiday buying season with some deals found on Xbox Live. Starting today, Xbox Live Gold members can take advantage of great deals on Xbox digital games. Xbox Live Gold members not only enjoy an exclusive 4-day head start on Black [...]

Rampage, a classic Midway arcade game, will be seeing a big screen conversion in 2018. This movie adaptation seems to be heavily based around George, the gorilla with a cameo by Lizzy at the end.

No Brakes Games, alongside award-winning publisher Curve Digital, announced that Human: Fall Flat, a game about Bob and his wild dreams, is bound for the Nintendo Switch eShop on December 7th, 2017. Bob is a regular human with no superpowers, but given [...]