Full Review
The newest Transformers game will be available on 6-24-14 and Gamestop is offering some exclusive DLC for pre-ordering.
GameStop pre-orders will earn the "Weathered Warrior Pack" DLC, which includes two awesome characters – THUNDERCRACKER and SKYWARP – both fearsome masters of combat in service of the DECEPTICONS. The collection also delivers two powerful new weapons: the distortion field-generating Glass Gas Cannon and the long-range, kinetic projectile-spitting Electro Bolter. These potent weapons will also be available for players' use in the story-based Campaign and Escalation modes once they are unlocked. The Weathered Warrior Pack is available for PS4, PS3, XBOX One, Xbox 360 and PC systems only.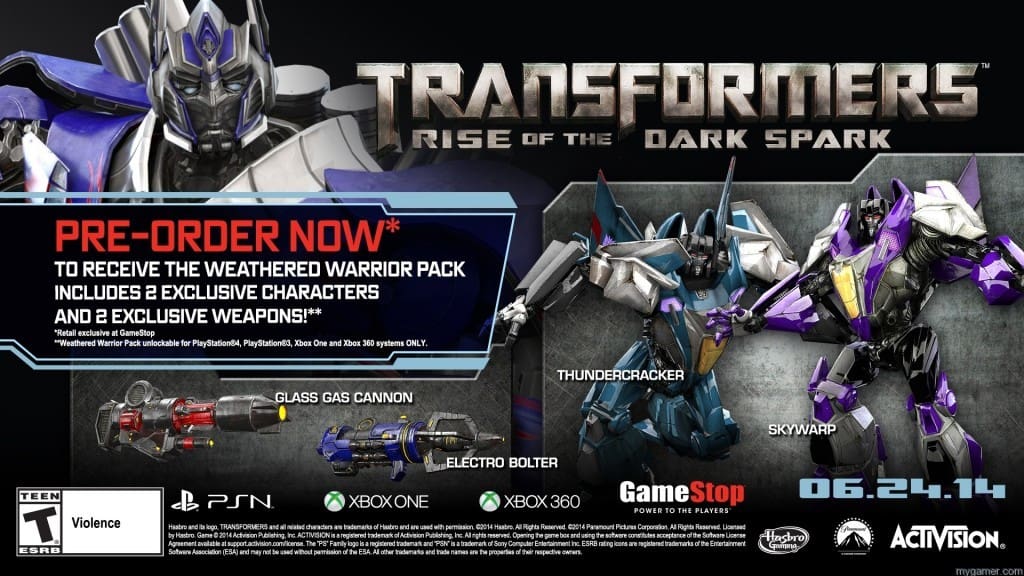 Get a jump start on the holiday buying season with some deals found on Xbox Live. Starting today, Xbox Live Gold members can take advantage of great deals on Xbox digital games. Xbox Live Gold members not only enjoy an exclusive 4-day head start on Black [...]

Rampage, a classic Midway arcade game, will be seeing a big screen conversion in 2018. This movie adaptation seems to be heavily based around George, the gorilla with a cameo by Lizzy at the end.

No Brakes Games, alongside award-winning publisher Curve Digital, announced that Human: Fall Flat, a game about Bob and his wild dreams, is bound for the Nintendo Switch eShop on December 7th, 2017. Bob is a regular human with no superpowers, but given [...]